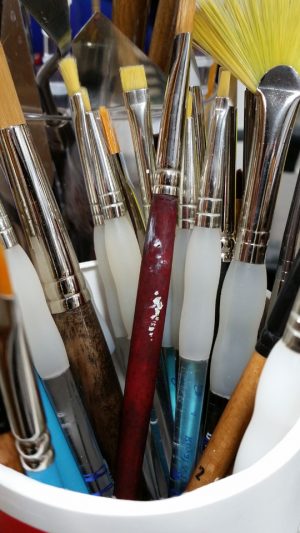 It's not hard to notice I haven't produced a lot of new art in the last couple of years. Between writing projects and an annoying illness, there really wasn't room to squeeze in art at well. I'm changing that. My focus is again back to committing random acts of art and inflicting them on an unsuspecting world.
Wow. That sounds more rebellious than it actually is. Cool.
As longtime readers of this site know, my studio has long been situated in a not-climate-controlled area of my house. Fine…it's my garage. The thing is, between cold winters, roasting summers, chore-filled springs, and holiday-rich autumns, making art wasn't the easiest endeavor. The solution, of course, was to move part of the operation indoors where space is more cramped but temps are more bearable.
As long as I keep my pieces down to no larger than about 40 x 50 cm (16 x 20 inches) and stop using the airbrush as my paint applier of choice being that I'd like to retain my remaining lung capacity. So, that means scratchboard (of course) as well as painting with a hairy stick. After a goodly amount of experimenting, I'm probably going to settle on acrylics (more on that in this post: Paint Tests Done – I Choose…). At present I'm doing a few studies just to get better at wielding brushes and dealing with the idiosyncrasies of painting with acrylics in this climate. The art principles are the same, but it's definitely a different skill set than straight-up airbrushing. I'm not giving up on airbrushing, it's just I want to produce at a higher output than my previous situation allowed.
The end result of this will also be a change in marketing focus. For the time being at least, I'm going to be focused more on selling originals — if for no other reason than I only have just so much room to store them. Prices will be more-or-less where they were before the pause, but let's worry about specifics when it becomes a thing.
So, let's get to producing some art-like art things.