OMG! Can you believe it? I've committed a new random act of art.
I know!
So…as you all are well aware, the period between April 2009 and April 2010 was devoted to writing The Connor Wars. Now that the project is completed, it's time to start stepping back to inflicting art-like things on the world (sorry, world).
The actress, Leven Rambin — who played Riley Dawson in season 2 of Terminator: The Sarah Connor Chronicles) — is currently here in Albuquerque filming episodes for the ABC summer series, Scoundrels. She tweeted a photo of her and two of her castmates: Virginia Madsen and David James Elliot. I thought it would be an interesting first attempt at art after a year off, so I started sketching…
OK…so maybe it was a little ambitious for a first subject after the time away. (Yes, awful enough that I won't post it even as a cautionary tale.) Undaunted, I opted for a single subject. As I've had Summer Glau on my mind for the past year since I've been writing her characters, I thought she'd make an interesting subject. Still not straying far from the "terminatorverse", I opted to do my take of the damage Summer's cyborg character, Cameron, suffered in the season 2 finale of the series, "Born to Run". And here's the result: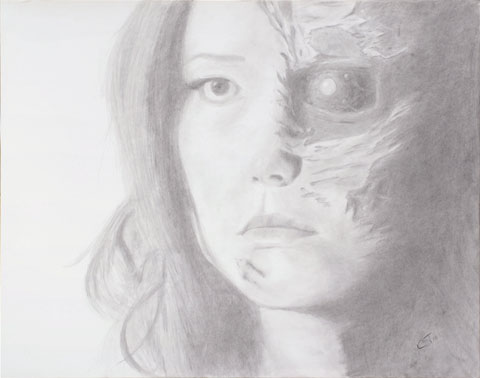 Overall, I'm happy with it. Not only is it the first finished work in a year, but it's the first pencil sketch as an end to itself that I've done in… gosh, I can't even remember. I want to say that it's been more than a decade. It's not as good as I'm capable of, but I'm not complaining; it's a worthy effort given the circumstances, I think.
I'll post it in the gallery, soon. I wanted to give y'all fair warning: more art is bound to happen.